Berlin's club scene is legendary. Above all, it's old industrial locations where DJs DJ today and the scene celebrates into the morning hours.
We make sure that the way becomes a unique experience – instead of taking a taxi, you go to the dance floor by canoe. The "Griessmühle" is located directly on the Neuköllner Schifffahrtskanal. We start at the Funkhaus Berlin.
With smooth-running Canadians we paddle towards the city, in front of us the television tower in the red evening light.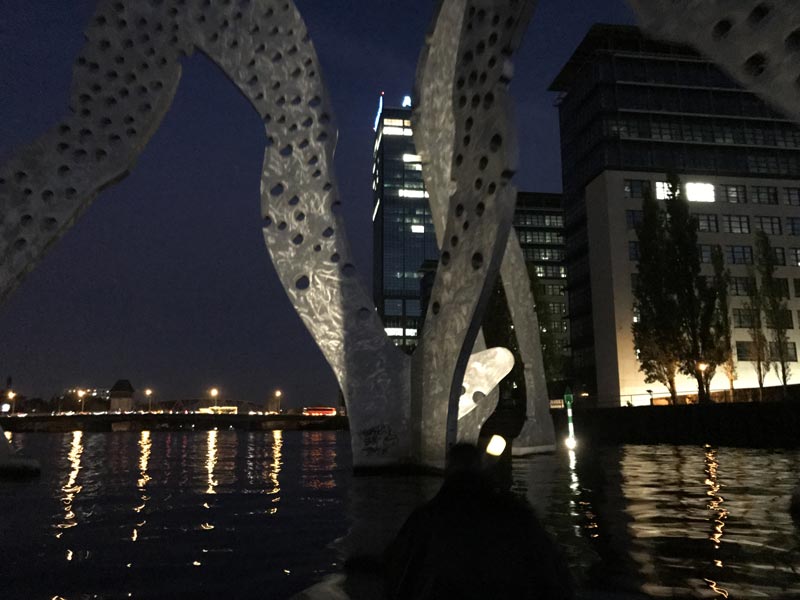 Then a steel viaduct over which the Ring S-Bahn thunders. Behind the 30 metre large aluminium sculpture "Molecule Men" we turn through a lock into the Landwehr Canal. The walkers on the shore promenades look around – because the first beats are already running on the boats.
Then a left turn and we go through the recently very trendy district of Neukölln. "Close to the water" or "Erika and Hilde" are the names of the bars along our route.
Behind it industrial area, scrap yards. Like a strange spaceship the silhouette of the 1000 room Estrel Hotel rises between them.
We are almost at our destination: Get off at the Griessmühle pier and through the backstage entrance directly into the club. The splashing of the water becomes rhythmic beats. And instead of the upper arms, the leg muscles are now in demand.