Canoe tour Wind of Change
The river Spree is considerably wider, with bays and small islands a few kilometers outside the city center. Looking to the shore, there is still much to discover originating in the DDR.
From the Island of Youth we paddle on to Stralau peninsula, up to a small village church. In that place, there is a half sunken tunnel under water, built for a tramway at the beginning of the 19th century.
In the DDR, Stralau was no place for dwelling.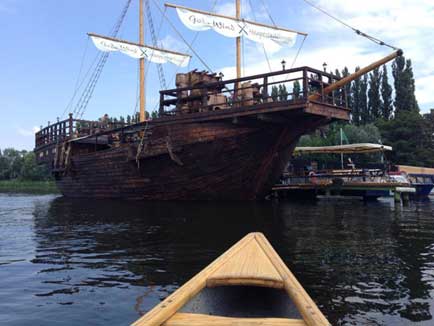 Canoe trip in the southeast of Berlin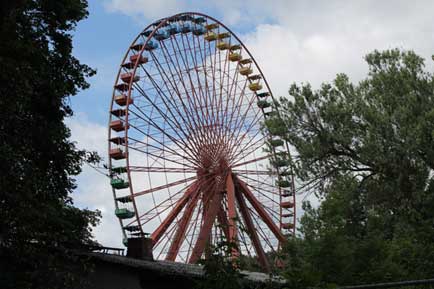 The area was marked by industrial and cargo ships. Today, however, the peninsula is an expensive residential area surrounded by water. Even German actor Till Schweiger often parks his boat here.
Past the tip of the peninsula, we reach Rummelsburg Bay. In the German Democratic Republic an infamous remand center was located here, today the red brick buildings house condos for young families.
On the opposite shore, surrounded by greenery, we discover the remains of the Spree Park Plänterwald with its towering, idle Ferris wheel. If the wind is right, the steel giant resumes speed again with a screeching noise. We hear the adventurous story from fairground operator Norbert Witte.
Then we float past the nearly 100-year-old power plant Klingenberg. Our shore leave crosses the grounds of the former GDR broadcasting facilities. Once, thousands of Stasi members were working here. Today, the numerous offices are used by rock bands as rehearsal rooms. We dine at the "Milk Bar", which has remained the original style of the 1970s.
For groups, a guided tour through the spectacular large broadcasting hall and other buildings of the former DDR broadcasting grounds can be organized.