Canoe tours for groups of students
For students and teachers, the guided canoe tours are ideal to get to know Berlin from a completely different side. The 3-hour programme includes paddling, history and a landing with a break.
At interesting points the boats stop and the guide tells you what exciting things to see. Highlights on canoe tours include the Oberbaum Bridge, Molecular Men, the Bathesship, the DDR border, the Spreepark, the Spree Tunnel and the former radio site of the DDR.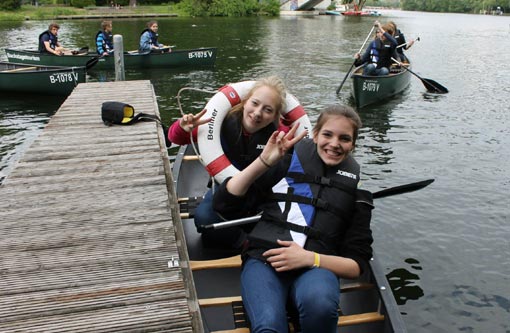 Before we set sail, all participants get life jackets, waterproof tons, paddles , a safety briefing and a theoretical paddle crash course.
The canoes have three seats and are easy to control even for beginners. In addition, the school class is accompanied throughout the tour by a guide, who will also be happy to offer practical assistance if necessary. A meal together after the canoe tour completes the offer. More information about the food afterwards.
Special prices for school classes
For groups of pupils, we offer special prices that are well below the normal price of 25 euros per participant. Teachers are usually always for free. We are happy to make a non-binding offer for our canoe tours!