Canoe tour Walking on Water
"Berlin is built from the boat," a local proverb says. Next to the river Spree, several channels cross the city. 150 years ago, freshly burnt bricks and wood were brought to the building sites of the rapidly growing city by water.
From the Island of Youth we paddle into town, the Television Tower always in sight. We stop briefly at the large sculpture "Molecule Men". The 30-meter high men made of aluminum seem to pass lightly over the water and join hands.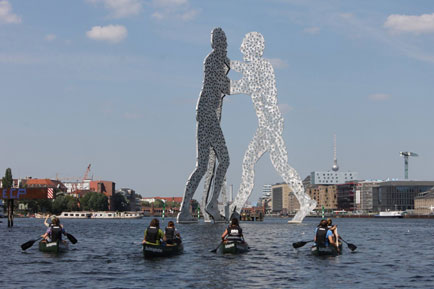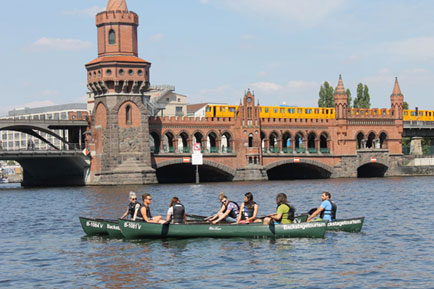 The Oberbaum Bridge with two castle-like towers in the style of Brick Gothic from the region of Mark Brandenburg is impressive. We leave the river Spree.
Through the mill lock, we canoe on the Landwehr Canal, the four-storied apartment buildings now approaching very close to the water route.
In the heart of Kreuzberg, we are ready for shore and refresh ourselves with Bavarian beer and Turkish grill specialties.
On our way back, we discover the remains of the former border control systems of East Germany, each barge was searched through meticulously. The "Badeschiff", a heated, floating swimming pool in the middle of the Spree is nearby.
Some hundred meters further on, we pass a run-down shipwreck and hear the incredible story of how it got out there and why it remains until today. Then we paddle below Elsen Bridge while trains and car traffic on 6 lanes thunder above us. All of a sudden we are back in the country with our canoes and soon reach our starting point Isle of Youth.