Canoe trip in Köpenick: "Green Southeast Berlin"
The historic center of Köpenick is situated on a peninsula surrounded by the River Spree and Dahme.
Fortunately this part of Berlin has been spared of the many bombs from World War II and therefore the historic center of Köpenick is completely preserved.
During our tour we explore the listed buildings of the Kaiser time and surround the caste of Köpenick by canoe.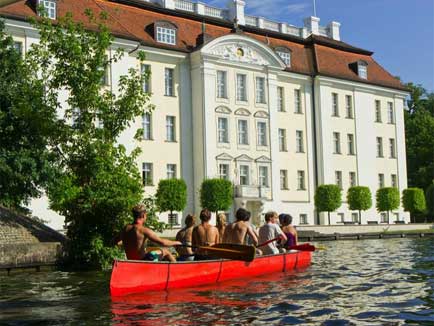 By canoe in the largest district of Berlin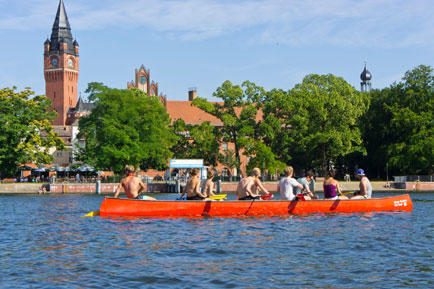 Even many people in Köpenick are not aware that the urban district of Treptow-Köpenick is twice the size of Paris. This part of Berlin is one of the greenest and most water-rich areas of the city. During our canoe tour we paddle right past the town hall and the caste of Köpenick and tell stories about then and today.
In the 18th century the historic center was known by a crook named "Friedrich Wilhelm Voigt". The former shoe man attacked an officer in the woods and stole his wallet and his uniform.
He then put on the uniform and walked into the town hall of Köpenick and stole the mayor the city treasury. With a guilty conscience and a really completely different goal, he admitted it to the emperor of Köpenick after the act. But the emperor found the act so spectacular that he let free the former shoe man after a few years in prison.
Canoeing from the historic center of Köpenick to the Baumgarten Island
Before we paddle around the historic center of Köpenick by canoe, we first paddle through the River Spree past the Baumgarten Island. Many years ago the island was used by the wash industry for drying and bleaching.
Some years later the meadows were piled up and idyllic allotment gardens were built. On the other side of the river lies the Mecklenburg village. During the DDR 10 world festivals were held there and many people from former West Germany named the area "Woodstock of the East".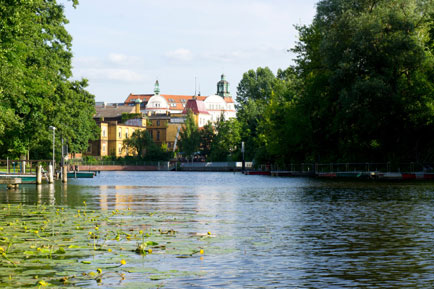 Paddle-Break in the Köpenick Beer Garden

After about an hour of paddling we take a break at the Beer Garden named "Freiheit 15". There is not only fresh draft beer but also a rich BBQ offer. This is a popular location in Köpenick with an idyllic view.
After our break we make our way back to where we started our canoe tour. We let the historic center of Köpenick behind us and paddle past the castle and many beautiful scenes. Finally, we paddle past an abandoned factory site which used to be a huge laundry factory during the DDR. Today there are investors who plan a huge residential area with luxury apartments.